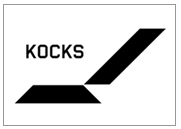 Ports/ Shipyard
We are associated with Kocksardelt Kranbau GmBH to supply port cranes, ship to shore crane (STS) & container cranes and a wide range of material handling equipment and system. Kocksardelt is one of the world's leading manufacturers of cranes with annual revenue of over Euro 500 million, manufacturing over 500 complete cranes all over the world.

We provide advanced container handling machinery such as automated STS cranes with cutting-edge technologies designed to achieve higher efficiency, manpower savings, and lower environmental impacts for our customers. Kocksardelt provides the optimum next-generation container handling system solutions in order to ensure the best machine layout plan, yard operation plan, and other plans to maximize customer satisfaction.
Container Handling Port Cranes: RMQC (Feeder Server)
Rail Mounted Quay Crane (RMQC- ship to shore crane) Type: Pannamax/Post Pannamax/Super Post Pannamax

High performance & reliability are the key features of a ship to shore crane (STS). We offer STS with standard features such as AC inverter drives; crane management system; trim list skew system; hydraulic & electronic anti-snag system. With our innovative design, we deliver RMQC of different capacity (max. 68MT) on turnkey basis.


Bulk Materials Handling Port /Shipyard Cranes
Wharf/Double Jib Level Luffing Cranes
We offer various types of wharf cranes to cater the needs of shipyard and port industry. The Tukan is the most efficient slewing crane for harbours and shipyards. Its short rope lengths, short load sway and precise movement control make the Tukan highly appreciated.

The Tukan M (M = Multipurpose) is our professional all-rounder crane in harbours and can fully deploy its design advantages while handling cargo; bulk, heavy duty lifts and containers.

The shipyard crane Tukan S (S = Shipyard) differs from the Tukan M, B and K on account of its lighter construction, the shipyard-compatible design and its optional auxiliary hoist.
Goliath Cranes
Kocks is the world market leader for Goliath cranes and innovator for STS container cranes.

Building high-performance ship unloaders since century, Kocks is considered an innovator in the development of container cranes in Europe.

Our engineers uncompromisingly apply the established rules of German engineering to the further development and design of all products. Designing and classification for continuous operation is carried out meticulously. The goal always remains the same: increasing efficiency and safety whilst ensuring the equipment is as environmentally friendly as possible.